Case Study: WeTalkMed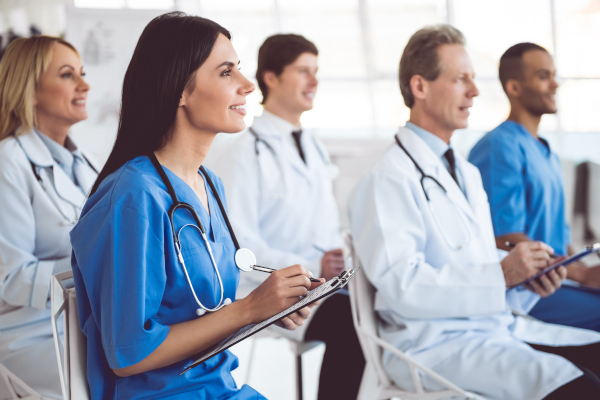 Conferences, Lectures and Online Courses
Liat Rabinovici, founder and CEO of WeTalkMed shared how they use Unicko to deliver webinars and training sessions with customers across the medial field.
WeTalkMed is a company that organises and produces online and hybrid conferences and workshops covering a wide range of different subjects, mainly in the medical field. As one of the market leaders in this area they work with most of the hospitals in Israel and many different healthcare providers, pharmaceutical companies as well as various associations and non profit organisations.
After working as a marketing manager in various hospitals, as well as other management and marketing roles in the medical field, Liat Rabinovici established WeTalkMed. As one of the pioneers in the field of medical webinars, she began hosting online conferences many years before it was a popular or well known medium. WeTalkMed's webinars attract a diverse audience with hundreds of participants attending their conferences which are open to the general public. In addition, they offer smaller workshops which cater to a specific target audience. Using Unicko they host hundreds of webinars annually.
"I've worked with Unicko for many years and I continue to work with them because I'm very comfortable with the platform."
After an extensive search for a platform, Liat started working with Unicko more than 6 years ago while part of a previous company and continued to use Unicko when she founded WeTalkMed. When WeTalkMed first started hosting webinars, it was essential that the platform was intuitive and easy to use as many of the attendees were not yet familiar with online conferences. One of the advantages that Unicko offers is that it is a browser based platform which means participants and speakers can easily join the webinars with no downloads necessary. Since they are working with a diverse audience it was also important for them to work with a service that supports an interface in multiple languages.
In addition to the specific features, WeTalkMed were also looking for a company that would provide strong customer support. They have found that Unicko allowed them to grow rapidly and was available to help with this growth by providing excellent customer service. The platform is easy for them, their customers and their audience to use.
"We have customers who work with us because we work with Unicko."
With a wide range of webinars, WeTalkMed needed a platform that offered features which allowed for hundreds of participants to easily join a webinar but which could also be tailored to safeguard the privacy of the participants in medical workshops. Unicko offers the flexibility to change the registration approval to suit the needs of each customer, depending on whether a webinar is open to the public, or only to a specific list of participants.
Unicko's various features assist WeTalkMed in running their webinars in a smooth and professional manner. Having the ability to upload all presentations and media files in advance means that they can prepare for the webinar and train their presenters in a short period of time. During the webinar, the host can easily switch back and forth between speakers' videos, presentations or screen sharing. They also make use of the different camera layouts such as the gallery view option which displays multiple participants' videos at once, or the thumbnails view when you want to focus on specific speakers.
"We learn a lot from the chat, it's like a focus group. We learn about what works for future webinars."
Another feature that they use often, both during and after a webinar is the chat or Q&A. The participants use the chat throughout the webinar to engage with the speakers. At the end of the webinar WeTalkMed is able to download a full transcript of the chat which gives them and their customers access to important information about how the webinar was received. This data helps them improve and plan for future webinars. A particularly useful feature is the restricted chat. Once the chat is set to restricted, only the host can see the attendees' messages allowing them to ask personal questions without them being visible to the rest of the attendees. WeTalkMed uses this feature for workshops where the participants' privacy needs to be respected.
"We record almost all of our public webinars."
WeTalkMed records their public webinars and they upload these recordings to their website and youtube channel allowing audience members who missed it to view the entire webinar as if they were attending it in person which makes important webinars available to a wider audience.